From History of Physics at Sussex
Information about people connected with the department
Office-holders
List of people who held various posts in the department
Staff members
The numbers of people in different categories of research-related staff as a function of time are shown in the graphs below, taken largely from early prospectuses and then from the MAPS School Guides; for astronomy, the annual reports published in Quarterly Journal of the RAS were also used.(S)RF = (Senior) Research Fellow; TF = Tutorial Fellow (some of these later became lecturers).

If anyone who reads this has old School Guides for the years with missing data, the moderators would be very glad to receive a copy so that we can fill in the gaps. Information for the years 1995-2010 would also be appreciated - sadly, there are not the same convenient summary sources.

Individual people who held faculty and related positions in the department, with dates, are given on a separate page.
Technical and secretarial staff are covered to some extent in the previous entry.
The source for the information on these pages is the same as for the graphs below. Again, further information would be appreciated.

Robert Smith, September 2011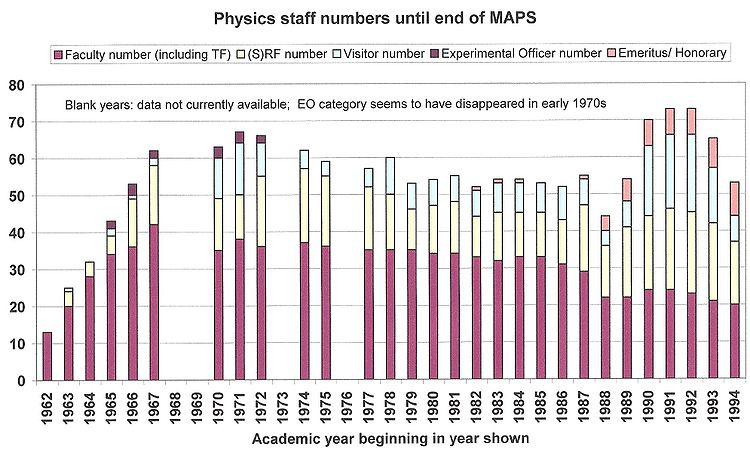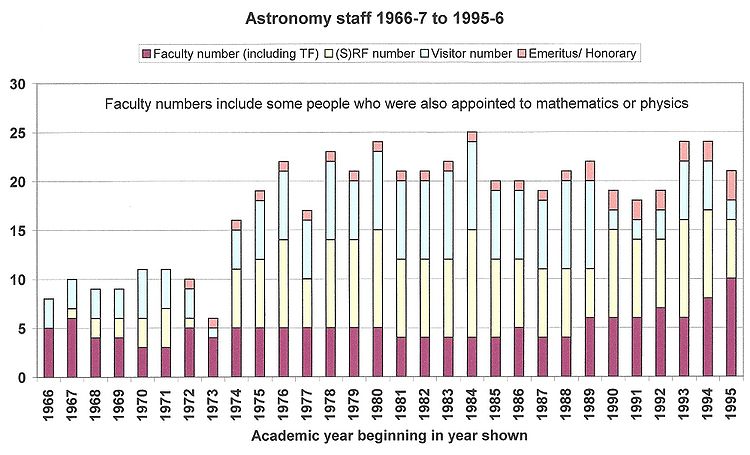 In memoriam
Reminiscences from (and of) faculty members, past and present
Reminiscences from visiting faculty
Reminiscences from former postdocs
Reminiscences from former students
Reminiscences from former technical staff
Reminiscences from former secretarial staff